OUR SERVICES
STEM FROM CONCEPTION TO IMPLEMENTATION
The Canvas Is Ours To Create Together
At TIES, we believe that all learners need to be equipped with the right tools to lead meaningful lives and compete in the knowledge economy. This requires a fundamental shift in education emphasize STEM literacy and readiness for all. Teaching and learning need to focus less on fragmented and isolated bits of discrete information, and more on a trans-disciplinary approach that offers students the ability to address real-world issues that affect their family, their community and their world.
This is why all of us at TIES have immersed ourselves in the full spectrum of what goes into creating and designing customized, high-value projects. We never take shortcuts. We curate high-quality resources and reinvent the wheel when necessary. We partner and collaborate. We guide our clients to reach their full potential by establishing the necessary conditions that enable and sustain desired outcomes.
STEM in Partnership
STEM for the future is inclusive of computational thinking and literacy as part of the fabric of a great STEM education. We work with the CS for All and coding.com communities as they advance this mobilization for all children and learners. Our greatest legacy in our work is to provide clients with the tools to begin designing their own futures — always with TIES as a trusted partner. Clients become agents of their own change.
COLLABORATING TO DEFINE STEM
We are responsive to economic issues and look at evolving trends in technology and education
The Engineering Design Process
At the heart of every project we touch is the Engineering Design Process. A cyclical construct for solving problems, it includes eight key steps: Ask, Identify Design Requirements, Imagine, Plan, Create, Test & Evaluate, Improve and Communicate.
The process ensures that possible issues and/or implications are appropriately identified, considered and monitored throughout design and project implementation. Ultimately, using the engineering design process enables teams to establish the same vision and outcomes, and, from that, to build programs and practices that support the needs and desires of the collective group.
In great anticipation of an AP in engineering, TIES celebrates the Engineering Design Process (EDP) and graphic.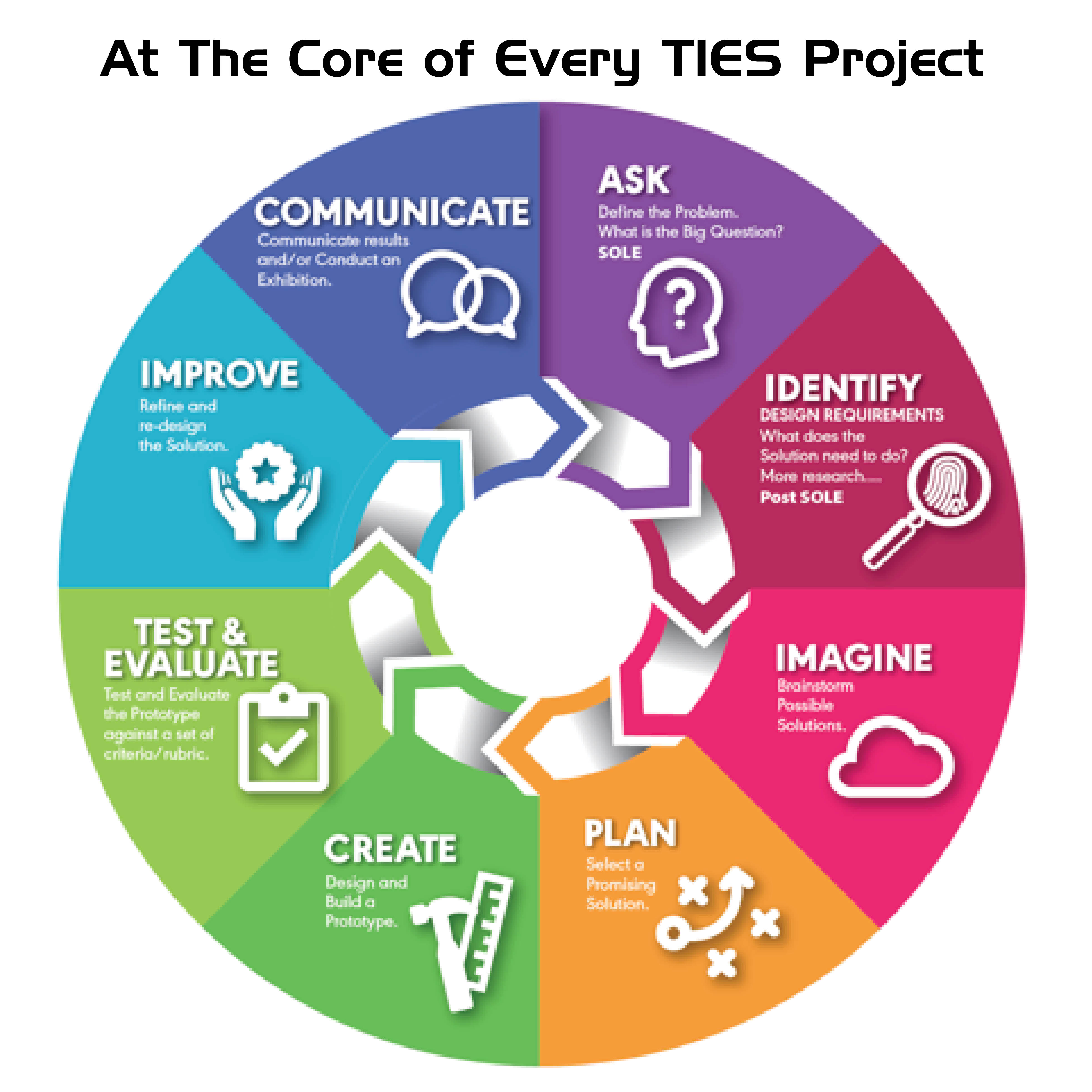 We follow a phased process in all of our projects that guide the project from conception to implementation to impact and sustainability.
Listen and Learning Phase
Preliminary Research

Benchmark  the work based on research and existing models and fully assess the local STEM landscape to determine assets, STEM resources, and workforce and economic development opportunities.

Focus Groups

Facilitate focus groups with cross-sector stakeholders representing businesses, post secondary institutions, K-12 schools, non-profits, families and community members to determine the area's STEM climate and pinpoint potential opportunities for ongoing support and collaboration.

STEM Surveys

Offer a series of stakeholder surveys to uncover STEM attitudes, awareness and assets within a community. The findings are combined with other series in our Listening and Learning approach, and leveraged in our design work to build on assets and inform opportunities.

Learning Tours

Facilitate visits to exemplar STEM facilities and programs to offer insight into the practices for adoption or change in a given school or community.
Design Studios

Facilitate meetings focused on cultivating collaboration and engagement among STEM professionals, community leaders and stakeholders. Design studios can be categorized using the Rensselaer Polytechnic Institute Design Studio concept and include innovation, accountability, learning and leading, collaborative investment, measurement, ecosystem management and more. Sessions establish relationships to ensure the project's support and sustainability.

Design Blueprint

Co-design a Design Blueprint, an actionable tool defining all the prioritized strategies and tasks for implementation to ensure a robust launch and intended impacts. The tool offers an embedded project plan that is prioritized with technical assistance from TIES.
Implementation Phase
We provide support from early implementation to long-term engagements, and offer customized services that range from regular check-ins to comprehensive professional development and training.
Sustainability and Transition Phase